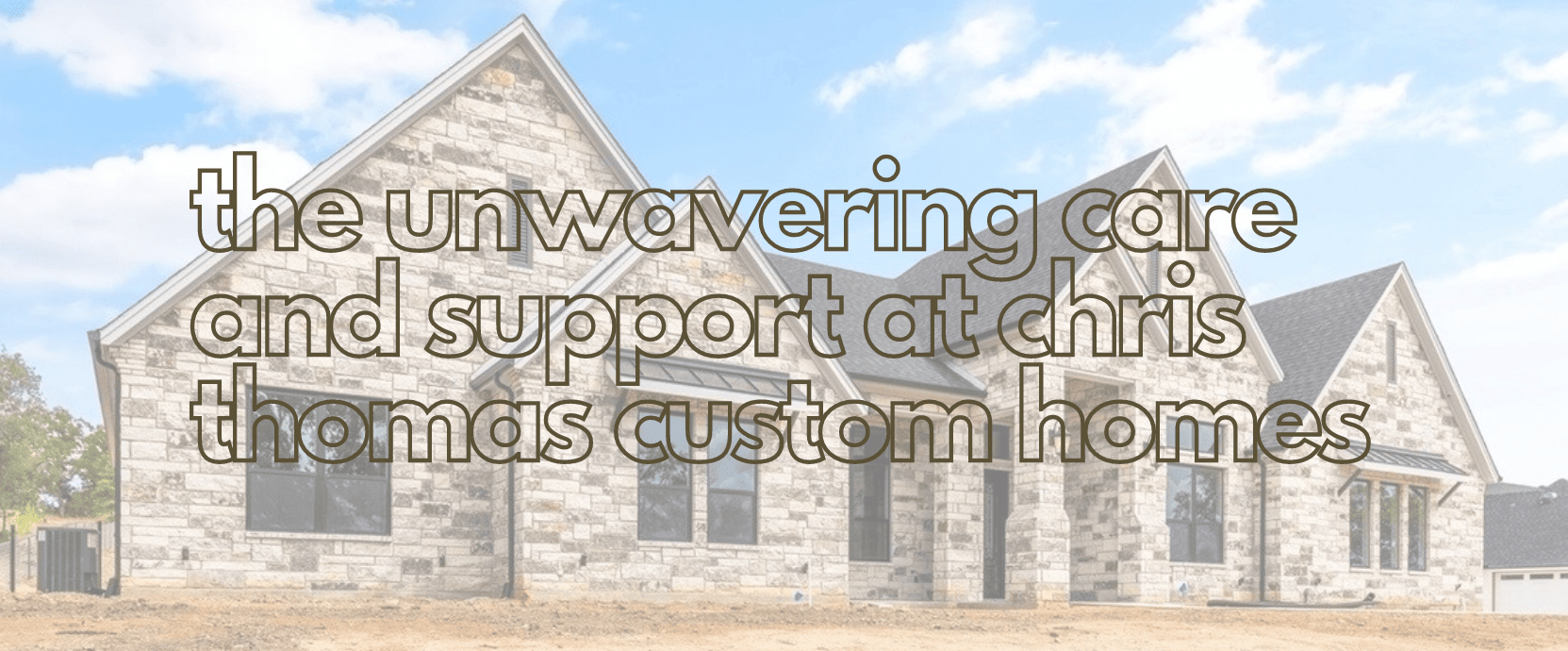 Building Homes and Hearts: The Unwavering Care and Support at Chris Thomas Custom Homes
When it comes to building custom homes, it's not just about four walls and a roof. It's about creating spaces where families will create lifelong memories, where first steps may be taken, kids leave the nest, and where love and happiness exist. At Chris Thomas Custom Homes, the foundation of its exceptional craftsmanship goes beyond the physical structure of its extraordinary custom homes – it rests on the deep bonds of care and support within the team.
In an industry that could be all business and impersonal, Chris Thomas stands out as a beacon of compassion and camaraderie. From the moment you step into the office, you'll notice a warmth that transcends the realm of bricks and mortar. It starts with the morning ritual that sets the tone for the day – a simple yet powerful gesture that makes all the difference. Every morning, the team at Chris Thomas Custom Homes receives a heartfelt text message from Chris himself. But this is no ordinary message; it's a Bible devotional that serves as a source of inspiration and reflection. This daily dose of biblical wisdom helps to foster a sense of purpose and togetherness.
Beyond the world of blueprints and construction, the team at Chris Thomas Custom Homes share much more than just professional goals. They share their lives, joys, and struggles – all of which contribute to the strong sense of community and love that permeates the workplace. Chris encourages an open and supportive environment where everyone feels valued and cared for, both professionally and personally.
One of the most beautiful aspects of this tight-knit team is the way they celebrate each other's victories and milestones, both big and small. Sports scores of their kids' games are enthusiastically shared and cheered on. Health updates about themselves or their loved ones are met with empathy and encouragement. In moments of triumph and moments of difficulty, the team rallies around each other like a second family.
The impact of this culture of care is evident in the outstanding workmanship and customer satisfaction that Chris Thomas Custom Homes consistently achieves. Clients often remark on the positive energy and sense of dedication displayed by the team throughout the building process. Not only does this supportive environment benefit the team and clients, but it also creates a ripple effect within the community. The love and care that go into each project extend beyond the construction site and leave a lasting impression on the families who move into these custom homes. It's the intangible difference that turns a house into a haven.
In a world that can often feel disconnected and fast-paced, Chris Thomas Custom Homes is a reminder of the power of compassion and unity. With a team that nurtures both homes and hearts, Chris Thomas continues to leave an indelible mark on the lives of everyone involved – from clients to team members. So, the next time you drive past a Chris Thomas custom home, remember that it stands not only as a symbol of architectural brilliance but also as a testament to the extraordinary care and support that breathe life into these beautiful creations.
PREVIOUS
The Benefits of Building Custom in DFW
NEXT
Zillow's Consumer Housing Trends Report: Why Chris Thomas Leads The Way